Writing to persuade?  Try this simple structure for generating and organizing ideas.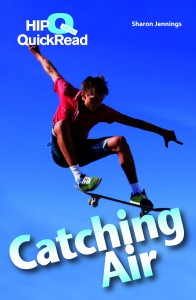 "Skateboarders say that if your town doesn't have a skate park, then your town is a skate park. In other words, they will skate anywhere in town. This is annoying to townspeople, but it's also dangerous for skaters. On average, a skateboarder dies every week  in an accident with a motor vehicle."
Read the rest of this article in favor of Skateboarding Parks in the FREE Teacher's Guide that comes with every internet order of CATCHING AIR.
Good persuasive writing requires writers to not only state opinions, but also to provide evidence to support those opinions.  An organizational structure such as "What, Why and How Do You Know?" encourages writers to provide facts and statistics behind their rationales.
What? The opinion or thesis
Why?  The reasons behind the opinion
How do you know?  Facts, statistics and other evidence to support the reasons.
For older students, anticipating the argument is also an important part of effective persuasive writing.  Other people might say… But I say… invites writers to anticipate – and refute – any argument the reader might present.
Click here to download the graphic organizer.
Click on the image at the left to see a completed sample.